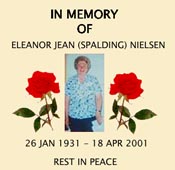 Eleanor will be truly missed by everyone who knew and loved her, and she will never be forgotten.
The special times, laughter, joy, tears and memories of your life, will always be in our hearts today and forevermore.
This Memorial is to Honor, and pay Tribute, to a lady who for many years was an outstanding Genealogist, giving freely of her time to help others find their roots.
The Articles she has written and published, on Family Histories, Church, Cemetery and Census Records, just to name a few, for Lambton County, Ontario, Canada, will be available for generations to come, for those who are still searching for their elusive kinfolk.
EULOGY
(By Helen Maddock)

Granny's Genealogy Garden No. 1 originally designed by Granny ( Fay Lucille Bertrand nee Lucas ).
May her memory live on through her work.