Severe deterioration over nearly 200 years prompted the formation of The Friends of Brick Street Cemetery in 2006, in order to restore the cemetery. Through the financial support of several government and private organizations, considerable improvements have been made.
The Friends of Brick Street Cemetery (FBSC) established that there are at least 70 individuals buried in the cemetery for which there are no extant markers. In order to locate these missing markers and delineate the burials themselves, the FBSC enlisted the geophysical services of Timmins Martelle Heritage Consultants Inc. TMHC conducted four geophysical surveys of the cemetery. Non-intrusive Ground Penetrating Radar (GPR) surveys were conducted over several small areas containing both known and potential burials on the cemetery grounds. Read more HERE
Gravestone prior to cleanup and repair
A unique feature is the addition of Auxiliary Stones to illegible or historically significant markers. Considerable historic and genealogical research connected with the people buried here has been completed and is ongoing – a valuable resource for anyone interested in local history.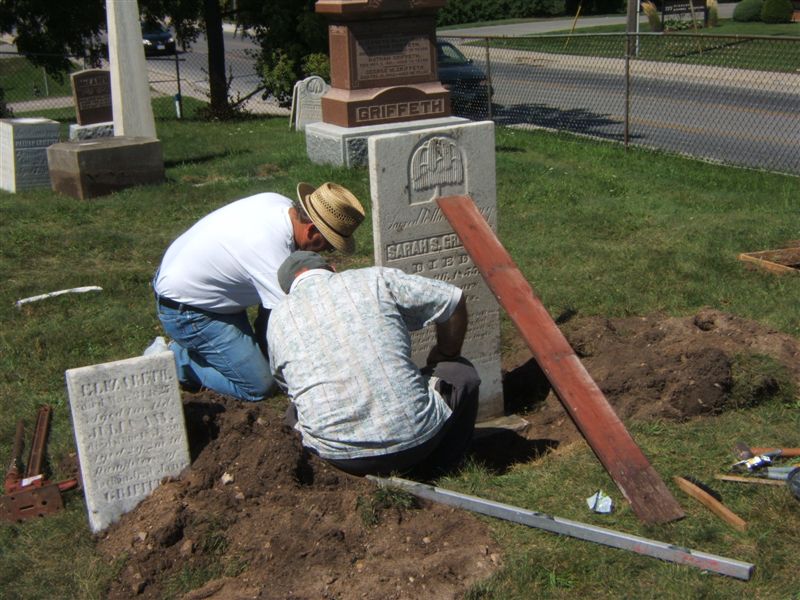 Sgt. Richard Tunks 82nd Regt. with his military medal c1870

Phoebe McNames' tombstone 2007

Phoebe McNames' tombstone 2012