Gnr. John S. Holt, P4641 RCA.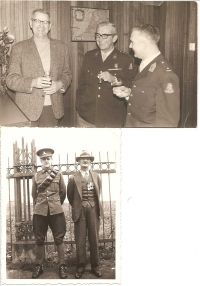 Top photo: Jack Holt with the Dutch Tank Workshop Commander and his RSM in 1974.
Bottom photo: Jack Holt with his father, ex-Sgt. Sam Holt of the Black Watch (WW1), taken in 1939.
My father was one of the three stowaways who joined the Nerissa in St John's 23 Apr 41. P 4641 Gnr. Holt, J.S. was 21 at the time. He and his buddies were bored with their assignment in St. John's as Coastal Artillery gunners, and wanted to get to where the action was. Little did he know what he was getting into. He told us that, because he was a stowaway, he was on duty at a Bofors gun when the torpedo hit. The few times he spoke about the experience, he told us tales of bailing a leaking lifeboat and singing all night. I thought that he was exaggerating until I found this website.
Jack Holt, as he was known to his friends, went on to join the 1st Medium Regt, RCA, when he finally got to the UK. He served with them throughout the war. He was wounded in Sicily, got malaria in Italy, and ended the war in Amersfoort, Holland. He finally demobilized in early December 1946 but had no job to go to back to at Canadian Car and Foundry in Montreal so by Christmas 1945 he was re-enlisted as a Craftsman (equivalent to a Private) in the Royal Canadian Electrical and Mechanical Engineers. He had a good post-war career, rising to the rank of WO2 in the vehicle technician trade, before he was commissioned from the Ranks (CFR) in 1966. He retired as a Captain in November 1973 with a total of 35 years of service. After retiring, he was hired back as a civilian technical representative to oversee the Centurion Tank rebuild program contracted by Canada to the Dutch Army – and being done in Amersfoort, Holland! At the time, I was serving with the Canadian Forces in Europe as a Captain in RCEME, and ended up in charge of the tank rebuild file, working with my father. A few years later, Canada decided to buy Leopard tanks from Germany, and Jack Holt went to Munich to act as the technical rep for that program, while I went back to Canada to work on Leopard tank training. He passed away in Munich on 4 May 1978 while undergoing an emergency operation for cancer.
Brigadier General Peter Holt.